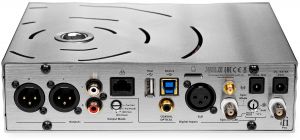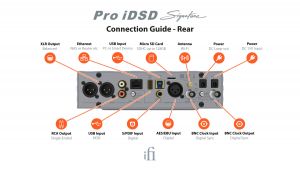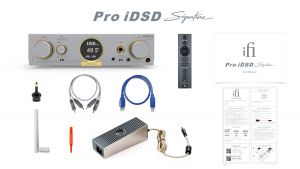 Standalone. Streamer. DAC/amp. All with the X-factor.
The Pro iDSD Signature is our new reference-class flagship.
Top of line DAC and so much more.
The Pro iDSD Signature is our new flagship reference class DAC and then some! The Signature edition builds on the strengths of the original, multi-award winning Pro iDSD.
It continues to cater for those who love good music delivered at the highest quality.
Use the Pro iDSD Signature as a standalone unit, a DAC/preamp, a network streamerand a headphone amplifier.
A Signature step up
The Signature takes the original Pro iDSD and pushes it even further towards perfection.
The Pro iDSD Signature has:
a sonically darker background and a punchier bass
upgraded power -supply components to lower the overall system noise by 300%
precisely matched NOS GE5670s tubes
added support for USB1.0 (PS4/PS5)
a new aluminium remote control
a top-of the range iPower Elite power supply included
Check out some Listening notes from our Lead Tech here.
The Pro iDSD Signature uses a quad-stack DAC – 4 x DACs in an interleaved configuration – to deliver exceptional resolution.
The powerful XMOS XU216 X-Core 200 series chipset processes incoming digital data and enables the Pro iDSD Signature to provide state of the art audio support – from MP3, 32-bit/768kHz PCM, DSD512, 2xDXD and full MQA decoding.
Thanks to the Crysopeia FPGA Digital Engine the Pro iDSD Signature brings studio grade DSD remastering to a wider audience. It can upconvert PCM and DSD files to DSD512 and DSD1024.
And all controlled from an app in the palm of your hand.
E-tailoring
The Pro iDSD Signature, like its predecessor, takes sonic tailoring to the extreme.
Listen to the your music to in solid-state, tube or tube+ modes, your choice, all at the flick of a switch.
Our Crysopeia FPGA Digital Engine strikes again as it enables the Pro iDSD Signature to offer several options when it comes to digital filtering. The GTO filter adds gravitas and a new dimension, and while the Bit Perfect, Bit Perfect+, Apodising and Transient Aligned filters give you even more choices to tweak the sound.
The discrete, fully balanced Class A amplifier stage offers adjustable gain.
Your choice. The only choice.
Stream wirelessly from Tidal, Spotify, Napster, QQ Music and more
Use Airplay to enjoy playback from your iPhone, iPad or Mac
Go wired via an Ethernet connection to play from a router or NAS (Network Attached Storage)
Use DLNA network audio playback with smartphones, tablets, Windows/Linux computers
Connect to a hard disc drive (HDD)
Pop in a USB memory stick or SDHC card
And with a variety of headphone outputs – Single-Ended 6.3mm, S-Balanced 3.5mm and Balanced 4.4mm – the only choice is your choice.
Power cleans. Absolute.
The Pro iDSD Signature ships with our flagship iPower Elite.
Coupled with the re-crafted power supply board which offers up to 300x lower noise, the music is buttery smooth.
Within and without – we left no stone unturned in our quest for the cleanest, purest, power for the Pro iDSD Signature (same for Pro iCAN Signature too!)
Specs:
Sample rates
PCM 768kHz / DSD 49.152MHz (DSD 1024) / MQA 352.8KHz/DXD (2xDXD)
Inputs
USB / AES3 (XLR) / S/PDIF (coaxial/optical combo) BNC / Ethernet / Wi-Fi / Micro SD
Filters
Bit Perfect / Bit Perfect+ / Gibbs Transient Optimised / Apodising / Transient Aligned
Gain
User-selectable: 0dB, 9dB and 18dB
(headphone section)
Dynamic range
119dBA
(solid-state, PCM, -60dBFS)
Output power
(16, balanced/single-ended): >4,200mW /1>1,575mW
Output voltage
(600, balanced/single-ended): >11.7V / >5.9V
Input voltage (Pro iDSD)
DC 9V/6.7A – 18V/3.35A
Input voltage (iPower Elite)
AC 85 – 265V, 50/60Hz
Power consumption
< 22W idle, 50W max
Dimensions
213 x 220x 63 mm
8.4″ x 8.7″ x 2.5″
Net weight
1980 g
4.37 Ibs