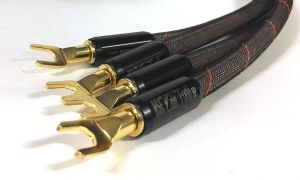 The Air Forte 'SP' (Special Performance) model is the upgraded version recommended for audio systems that require additional inductance.
The Air series and Air-tube technology of TARA Labs has been at the forefront of audio cable design for more than twenty years. The Air Forte is a high-performance and highly affordable speaker cable. Each channel is comprised of two separate large Teflon tubes. Each Teflon tube is helixed with 24 RSC Gen 2 conductors, making a total of 48 conductors per channel. This speaker cable takes full advantage of air dielectric design principles.
The Air Forte speaker cable has tight bass frequencies, with a neutral and revealing midrange, where images are rendered with precision and lifelike quality.
BSM (with interchangeable Spades and/or Bananas)
SAOF-8N copper conductors
10+ gauge conductor runs
Each Teflon tube is helixed with 24 RSC Gen 2 conductors
Neutral & revealing
Linear and extended high frequencies
Natural midrange and vocal frequencies
Tight and articulate bass frequencies